Connect with your social network account
Pueprchased a 1989 Avion 34XB. There are very few forums dedicated to Avion and I want to keep a log as to what I am doing to the trailer as I fix it up.

So far I got it home last night. This morning. Started going through the trailer and
1. Threw out about 10 years worth of expired food. Both canned and boxes.
2. Started a list of things that need repair. Surprisingly it's little stuff. Mostly plastic stuff that is brittle from age and desert heat. Light fixture plastic grills, getting a list of bulbs do I can go LED.
3. Cleaning. I'm actually going to take everything out and then start putting it back taking my time on what to keep or buy new.


I'll start posting pics tomorrow
---
Congrats! Look forward to seeing your progress!
KYAvion
1984 Avion 30R
---
I just threw out about 3/4 of a 55 gallon drum worth of expired food. Still taking stock of things that need replacing. So far
Wheels. Either sandblast and powdercoat factory ones or just buy a set of new painted silver or chrome wheels. Already ordered new tires.
So far
Needs a major cleaning inside and a exterior wash
New blinds. Theold ones are brittle and warped
Roof exhaust fan square plastic covers
Remove old backing from front cover. Looks like it was Velcro at one time but now it's just glue and the backing. Have to get some plastic scrapers and fine steel wool and wd40
New gaskets for the lower compartments
New window gasket trim.
Reseal roof
Will probably repaint the bottom skirting at a later date. Looks to be fiberglass of some sort. Uncle still has the lower door for the waste hook up. I'm good at fiberglass so I can make a door.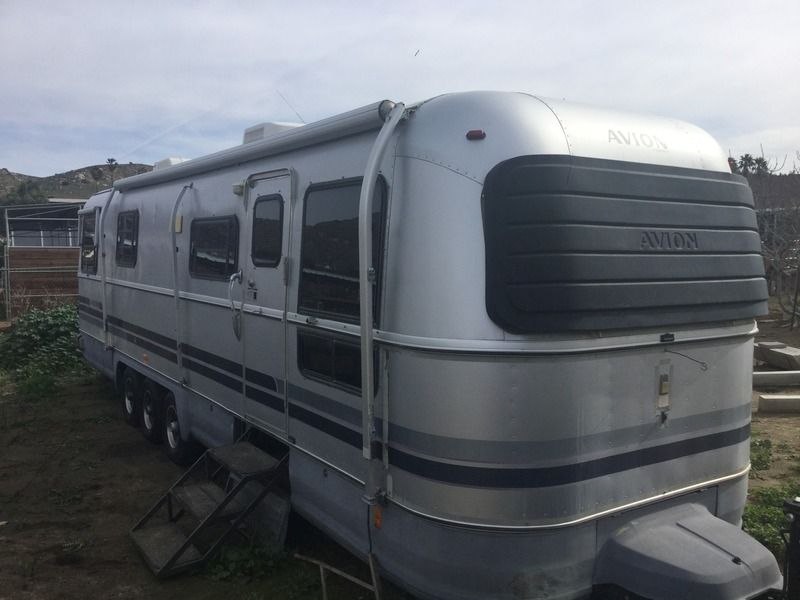 ---
Great looking trailer! If you get new wheels, considering upgrading to 16's so you can run LT tires.
KYAvion
1984 Avion 30R
---
Since 34's have 3 axles, there is actually less load on a single axle (compared to double axles) and they
might
be fine with 15" LT tires. The 15" LT tires on my Avion are rated at 2096# each. 16" LT tires have higher load ratings and might be better for a heavy trailer though.
1978 Avion 26-H (Rear twin beds, center bath, front dinette)
2012 Mercedes Benz GL 350 Bluetec, 3.0L V6 Turbo Diesel, 3.45 Axle Ratio
---
True. 15's would be fine, but are just harder to find in a truck tire. I believe Cooper still makes their AT3 in a 15, but I'm not sure who else.
KYAvion
1984 Avion 30R
---
Unfortunately I already bought some 15 inch ST 225/75/15 Load E and new steel silver painted wheels. I contemplated going chrome on the wheels but there isn't much chrome on the trailer and silver trailer with silver wheels will look fine. I wanted to do 16s ut I dont think there is enough space. If there is I may go to 16s on the next go around. Steel wheels are so cheap on Ebay and LT tires aren't hard to find. I may throw the trim rings on the new steel rims but not sure. Gotta get it washed and then I need to get everything out of the storage bins and clean.
Then I gotta go through the propane tanks, lines, stove, AC units and the plumbing and electrical.
I gotta move it out from where it's at because the ground is way too soft and I'm tracking mud everywhere. So it's moving to the side of the house where I have power and I can start looking. My uncle said everything works, but the last time he took it out was a few years ago.

Im gonna fabricate some vent covers out of some diamond plate aluminum. I don't really wanna spend 80 a pop on those and the shape that the caps are they are simple to make.

Overall I'm pretty happy. First thing mist of my friends asked was why didn't I buy a new RV. I told them I dont wanna drive down the road in a "me too" RV. While this may not be a vintage RV it has the look of one.
I'll start posting pics of my progress.
---
Posts: 65
Joined: Tue Oct 04, 2016 6:38 pm
16 inch lt tires fit great on my 84 30 p.
---
Avionstream wrote:16 inch lt tires fit great on my 84 30 p.
What size are you running? I'll keep it in mind for next time
---
I run Cooper HT3's in a 225 X 75 X 16 on my 1984 30R.
KYAvion
1984 Avion 30R
---